"They have until January 1 to get their act together, supposedly, but right now, today, people are suffering."
Get the latest from Catherine Morrison straight to your inbox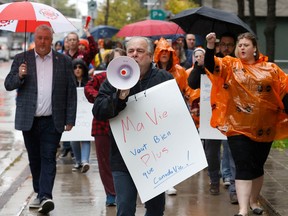 Article content
"What do we want? Services! When do we want them? Now!"
That chant could be heard downtown on Wednesday as members of the Union of Taxation Employees rallied in front of the Canada Life Assurance Company office on Kent Street, denouncing ongoing issues with public servants' health-care plan.
Article content
Wearing orange UTE-branded ponchos and holding signs with messages like "Canada Life or death?" and "You are 10,000th in line," members marched over from the nearby Delta hotel, with more than 50 members gathering in front of the office.
Article content
The administration of the Public Service Health Care Plan for more than 1.7 million public servants, retirees and their dependents switched from Sun Life Financial to the Canada Life Assurance Company on July 1. A Canada Life spokesperson says it has paid close to eight million claims since then and is responding to 25,000 contacts every week from federal government employees and retirees. As of mid-September, 99 per cent of plan members had been enrolled.
Plan members, however, say they continue to face challenges accessing services, reaching customer support and getting claims reimbursed.
The Government of Canada announced a number of changes to the Public Service Health Care Plan, including around dispensing fees and coverage, in September 2022 to "respond to the needs of a diverse Canadian public sector workforce, its retirees and dependants." The changes came into effect on July 1.
"Shame on Canada Life and Treasury Board, again, for the bad service, or the lack of service or the absence of service that our members are getting," UTE national president Marc Brière said at the rally, adding that the insurance company had 18 months to prepare for what was expected to be a "smooth" transition. "(It's starting), unfortunately, to look like Phoenix 2.0."
Article content
Brière said members were paying thousands of dollars out of pocket and struggling to reach customer support, noting that, when they did, many of them were getting differing answers about how to deal with issues.
"They have until January 1 to get their act together, supposedly, but right now, today, people are suffering," Brière said, adding he was told by a higher-up at Canada Revenue Agency that Canada Life was planning to hire more staff in November.
Virginie Pépin Horth, a UTE member based in Sherbrooke, Que., said she thought it was important to speak up about problems with the plan for there to be a change and for members to begin getting the service they deserved.
UTE launched a campaign on Tuesday asking its members to write to their members of Parliament as well as the president of the Treasury Board and the ministers of national revenue and of public services and procurement about the plan's failures. The Public Service Alliance of Canada released similar messaging in September.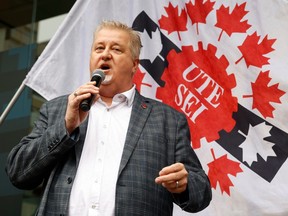 "It's a catastrophe," Brière said. "We already had a rough time this year with a strike, we had a rough time with our paycheque, and now it's with our coverage of meds. OK, that's enough."
Article content
The House of Commons Standing Committee on Government Operations and Estimates adopted a motion last week to undertake a study of the plan's transition, examining the quality of coverage, the effectiveness of the plan, the mechanisms used in awarding the contract and the measures that will be taken to correct the situation.
The committee agreed to allocate at least one meeting to conduct the study, with findings and recommendations to be reported to the House of Commons.
"That's the beginning, but one meeting is far from enough," Brière said Wednesday. "While they're studying, in parallel it'd be nice that Treasury Board pushes Canada Life to take concrete action."
Earlier this month, the government sent an email to retired public servants stating that Canada Life would start administering the Pensioners' Dental Services Plan in 2024, following a transition period. The Public Service Dental Care Plan is already being administered by the company.
"That makes me nervous," Brière said. "Their track record is terrible."
Treasury Board spokesperson Martin Potvin said in September that Canada Life had taken steps to improve its enrolment process, increase the number of agents at the PSHCP member-contact centre, extend the centre's operating hours, add content on its website with answers to common questions and increase communications with pharmacies to facilitate claims processing.
Article content
Treasury Board president Anita Anand said Monday that the main problem she had been monitoring involved wait times at Canada Life call centres. Anand said she had been "diligently following up" with the company to ask for updates on what it was doing to ameliorate the situation.
Before July 1, Anand said, the government was on top of Canada Life's contractual obligations as well as how some of the "unpredictable difficulties" were to be addressed. She said her team remained focused on those two areas.
"In my view, it is not enough for us to wait to see how things improve," Anand said, adding she would like to see reviews of cases where members were no longer able to receive coverage for things they did under the former plan.
Public Services and Procurement Canada said in an email that the contract included an adaptation period and an "opportunity for the provider to make necessary adjustments as required." The department said the government and Canada Life were focused on "resolving ongoing challenges experienced by members."
Brière said he would be meeting next week with PSAC and other unions to begin discussing how members could be compensated for their struggles. He added that he hoped to see other unions follow UTE's lead to make themselves visible and to speak out about issues with the plan.
Article content
"Let's keep applying the pressure. This is just the start," Brière said.
A spokesperson for Canada Life said late Wednesday afternoon that, "No one should be denied coverage they are eligible for under their benefits plan. While a vast majority of customers continue to access their benefits without issue, we recognize that some are experiencing difficulty, leading to high call volumes and wait times. That is why we're implementing a Customer Service Action Plan to help reduce wait times and accelerate claims reviews. We are also prioritizing claims to ensure those experiencing financial hardship and urgent needs are processed first."
Related Stories
Canadian industry challenges claims by top DND bureaucrat in battle over new surveillance plane

Ottawa's $7,064 pothole: A motorist claims extensive damage from Montreal Road monster
link