56% harbouring fears banks could fail in a crisis, survey says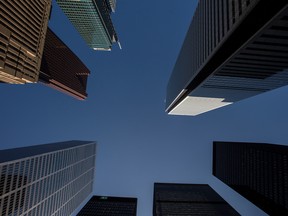 Article content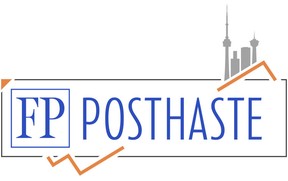 In the wake of three regional bank failures in the United States, some Canadians are eyeing their own banking system with trepidation, with a few even withdrawing their cash just to be safe.
Article content
More than half of Canadians, or 56 per cent, say they're worried the country's banks could fail in the face of a financial crisis, according to a recent survey conducted by WealthRocket, a personal finance site. Younger generations are most worried about the prospects of a collapse, and 64 per cent of those between the ages of 35 and 44 say they're concerned, along with 63 per cent of those aged 25 to 34.
Such concerns are translating into fear over the safety of their deposits, and 28 per cent say they are at least somewhat worried their money is in danger. Another 29 per cent fall into the "very" or "extremely worried" category. Only 19 per cent have no qualms at all.
Those worries have led 58 per cent to take steps to shield their money in case of trouble, and 22 per cent have gone so far as to have pulled money from a Canadian bank in the past 30 days. Others have taken less drastic steps to move cash, such as transferring to an investment account or another financial institution, or bought alternative assets, such as cryptocurrency and precious metals such as gold.
Article content
The survey results offer a glimpse into the mood of Canadians as turmoil rocks the U.S. banking sector. "There's a lot of fear and panic going around," David-Alexandre Brassard, chief economist at Chartered Professional Accountants Canada, said in WealthRocket's report.
In March, Silicon Valley Bank became the largest U.S. bank to collapse since the height of the 2008 financial crisis, and the second-biggest failure in U.S. history. Days later, Signature Bank followed suit. Next came the forced sale of First Republic Bank to JP Morgan & Chase Co. in April. In the midst of the failures, shares of regional banks have been volatile as regulators scramble to stem panic over the banking system. Industry watchers say more turmoil and further failures may lie ahead.
Article content
But experts say a major bank collapse in Canada isn't a likely scenario. Canada has only 34 banks, including the Big Six major institutions, compared to 7,000 in the United States, and all must follow strict regulations. Further, Canada's banks are well-diversified and profitable, giving them ample cushion in the event of even a hint of trouble. "Canadian banks are some of the most profitable in the entire world," Brassard said in the report. "They're not in an uncomfortable financial situation."
They've also weathered previous upheaval in one piece, only to emerge stronger. Bank of Canada deputy governor Toni Gravelle said in late March that the Canadian banking system is even more resilient now than during the 2008 financial crisis. He also said the central bank is "ready to act" to shore up the financial system in case of contagion from the current upheaval.
Article content
Bank failures in Canada are relatively rare, with the last occurring in 1996, when Calgary-based Security Home Mortgage Corp. closed, affecting $42 million belonging to 2,600 depositors, according to the Canada Deposit Insurance Corp. (CDIC). Meanwhile, the United States has had 564 banks fail since 2001, data from the Federal Deposit Insurance Corp. shows.
Canadians might also sleep better knowing their bank deposits are protected by CDIC, a Crown corporation. If a bank fails, CDIC guarantees deposits of up to $100,000, per account category. There's a chance that limit might be boosted, too. Ottawa said in the 2023 federal budget that it is exploring increasing the maximum amount CDIC insures. CDIC coverage on bank deposits is automatic, meaning you don't have to apply for it, and is designed to give people access to their money in a timely manner in case of a failure. For example, in 1996, the Crown corporation made payouts to all Security Home Mortgage customers within three weeks.
Article content
If that isn't assurance enough, people can also rest easy knowing that regulators are watching the banking system very closely, and will act quickly if needed, Brassard said. "Spotting a bad apple when you've got six banks is not hard," he said. "If one of them is going astray, you'll see it quite fast."
_____________________________________________________________
Was this newsletter forwarded to you? Sign up here to get it delivered to your inbox.
_____________________________________________________________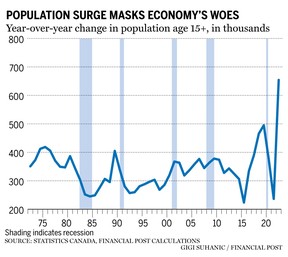 Canadian job numbers for April aren't as bullish as they seem, and are more of a mirage than a miracle, writes economist David Rosenberg of Rosenberg Research & Associates Inc.
First, he says that most of the gains were in part-time jobs. Full-time jobs fell by 6,200 positions last month, and accounted for only 45 per cent of total employment growth in February through April. Plus, those jobs are mostly in "low value-add services," he said.
Article content
What's more, growth in prime working-age employees, aged 25 to 54, has slowed, accounting for less than 20 per cent of overall employment growth over the past three months. That's important because that age group drives consumer spending.
To add to that, a surge in population growth, shown in the chart above, is also masking economic cracks. "What appears to be a jobs boom is not one at all," Rosenberg said. "Why? Because in the past three months, the pace of job creation has lagged well behind Canada's rampant immigrant-fuelled population bulge."
___________________________________________________

Environment Minister Steven Guilbeault will attend the Montreal Climate Summit. He will deliver remarks and make announcements on tree planting projects in Montreal and Quebec's clean energy transition
Metro Inc. holds its 2023 investor day in Toronto
Today's data: Canadian building permits; U.S. consumer price index
Earnings: Brookfield Asset Management Inc., Manulife Financial Corp., Nutrien Inc., Linamar Corp., Ballard Power Inc., Home Capital Group Inc.
Article content
___________________________________________________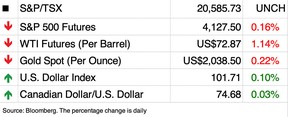 _______________________________________________________


Why Canada and India might finally sign a trade agreement

Why are cars so expensive in Canada today?
____________________________________________________

Living costs are high right now, but using credit to get by can hurt in more ways than one, both now and in the future. Credit counsellor Sandra Fry offers some ways to keep your credit score healthy, but also reminds us that it's more important to keep yourself healthy. You can always fix your score later.
____________________________________________________
Today's Posthaste was written by Victoria Wells (@vwells80), with additional reporting from Financial Post staff, The Canadian Press, Thomson Reuters and Bloomberg.
Have a story idea, pitch, embargoed report, or a suggestion for this newsletter? Email us at [email protected].

link