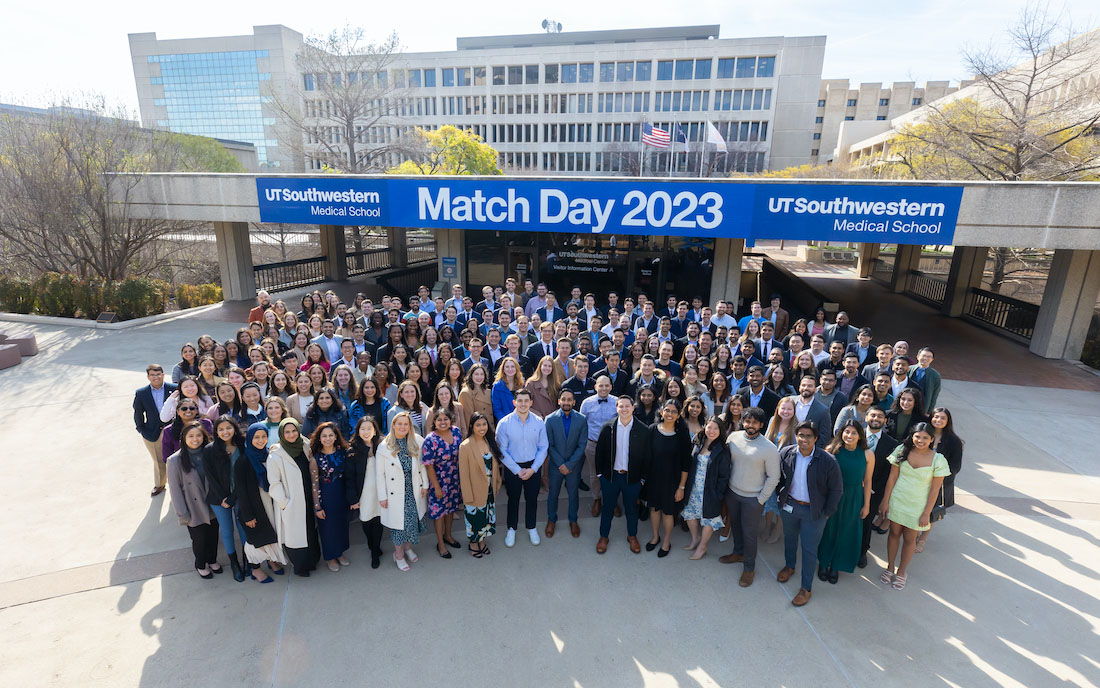 DALLAS – March 17, 2023 – Nearly 100% of UT Southwestern Medical School students matched to residency programs – well above the national average of 94% – including about half who matched to hospitals affiliated with U.S. News & World Report's top 25 medical schools, including UT Southwestern. More than 100 matched to Texas programs.
A total of 219 students matched to more than 80 programs across the nation, including Massachusetts General, Johns Hopkins, and Mayo Clinic. More than 50 UT Southwestern medical students matched to UTSW-affiliated residency programs, which are ranked among the best in the nation.
"We are proud of the achievements of the Class of 2023 and excited for them as they begin their medical careers," said Angela Mihalic, M.D., Dean of Medical Students and Associate Dean for Student Affairs at UT Southwestern Medical School, and Distinguished Teaching Professor at UT Southwestern Medical Center. "Match Day serves as an important reminder of the nation's urgent need to train the next generation of physicians for primary and specialty care." 
The medical students, who will graduate in May, were among about 40,000 nationwide who matched to residency programs as part of the National Resident Matching Program.
Top specialty selections for UT Southwestern students included internal medicine, pediatrics, anesthesiology, obstetrics and gynecology, surgery, emergency medicine, psychiatry, family medicine, and neurology. Matches ranged from medical centers in New York to California, Florida to Washington State.
"I chose to attend UT Southwestern for its outstanding opportunities and resources, along with its long-standing history of providing industry-leading care to the underserved populations of Dallas," said Hiren Patel, who is pursuing a career in pediatrics. "I look forward to being the primary care provider and advocate for vulnerable populations – those with language barriers, limited access to health care, and low health literacy."
"I knew training at UT Southwestern would make me the most well-rounded physician, and these past four years have only reaffirmed that belief," said Ofelia Negrete Vasquez, who will train in general surgery. "As a Hispanic female, I know that representation matters, and I am eager to be a visible leader in the field." 
"The advances in scientific research, technology, and patient care that are reported on an almost daily basis make now an exceptional time for the study of medicine. Never before in the history of medicine have the opportunities been so great to understand and cure disease. It is within the context of these limitless possibilities that UT Southwestern seeks to educate the physicians and scientists for a new millennium."
UTSW Training Opportunities
UT Southwestern offers training facilities that include William P. Clements Jr. University Hospital, ranked by U.S. News & World Report as the No. 1 hospital in Dallas-Fort Worth; one of the nation's busiest public hospitals; and one of the nation's largest children's hospitals. UT Southwestern also boasts a 49,000-square-foot Simulation Center – one of the largest of its kind in the nation.
Additionally, UT Southwestern is ranked by U.S. News among the top 40 hospitals in the nation in nine specialties, ranging from heart to cancer to brain care. UT Southwestern is listed among the top 5% of hospitals nationally for patient satisfaction; and is rated "excellent" for patient experience and patient services in areas including Cancer; Cardiology and Heart Surgery; Diabetes and Endocrinology; Ears, Nose, and Throat; Gastroenterology and GI Surgery; Geriatrics; Neurology and Neurosurgery; Obstetrics and Gynecology; Orthopedics; Pulmonary and Lung Surgery; and Urology.
UT Southwestern's Harold C. Simmons Comprehensive Cancer Center is the only National Cancer Institute-designated comprehensive cancer center in the region – one of 53 in the nation, placing it among the top 4% of the approximately 1,500 cancer centers in the United States. UT Southwestern is designated an Advanced Comprehensive Stroke Center by The Joint Commission and the American Heart Association/American Stroke Association, and has one of the nation's leading epilepsy clinics – a Level 4 center, the highest possible level by the National Association of Epilepsy Centers – part of the Peter O'Donnell Jr. Brain Institute. The O'Donnell Brain Institute in early 2022 completed a $1 billion campaign to fuel its commitment to advance brain research and clinical care, making it one of the largest brain-focused investments at a U.S. academic medical center. 
UT Southwestern also has more than 5,800 research projects fueled by nearly $610 million in funding and ample opportunities to participate in research, including a Scholarly Activity period with multiple research tracks available and more than 450 labs on campus. The Perot Family Scholars Medical Scientist Training Program, one of just 54 M.D./Ph.D. training programs in the country supported by the National Institutes of Health (NIH), offers a dual degree to strengthen the advancement of laboratory discoveries into the clinical arena. UT Southwestern rated No. 1 among global health care institutions in the 2022 Nature Index for its published research, UT Southwestern Medical School rates nationally among "Best Graduate Schools," and the Medical Center has nationally rated programs in the UT Southwestern Graduate School of Biomedical Sciences. The new Peter O'Donnell Jr. School of Public Health will welcome its inaugural class later this year.
About UT Southwestern Medical Center
UT Southwestern, one of the nation's premier academic medical centers, integrates pioneering biomedical research with exceptional clinical care and education. The institution's faculty has received six Nobel Prizes, and includes 24 members of the National Academy of Sciences, 18 members of the National Academy of Medicine, and 14 Howard Hughes Medical Institute Investigators. The full-time faculty of more than 2,900 is responsible for groundbreaking medical advances and is committed to translating science-driven research quickly to new clinical treatments. UT Southwestern physicians provide care in more than 80 specialties to more than 100,000 hospitalized patients, more than 360,000 emergency room cases, and oversee nearly 4 million outpatient visits a year.
link