Opinion: Every worker deserves to feel safe at work, and that means being as comfortable speaking about mental health as they would a broken leg.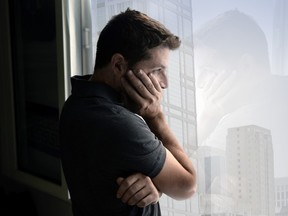 Article content
Employers are failing workers on mental health.
Article content
Workers across Canada have fought long and hard to have physical health and safety taken seriously in the workplace, and this has been important, life-saving work. However, action on mental health in the workplace has been consistently overlooked by employers, with devastating outcomes. In Canada, suicide is the second-leading cause of death for men under 50, and this shocking statistic is showing no signs of change. This affects us all.
Article content
This month, men's health is top-of-mind as millions of men worldwide grow, or attempt to grow, a moustache for Movember — a charity dedicated to supporting initiatives that aim to improve men's mental health, as well as combating prostate and testicular cancer.
When we think about men's health, we must go beyond the individual and look at how our institutions — in particular, our workplaces — support mental health in addition to physical health. This year, HeadsUpGuys in partnership with the Community Savings Credit Union conducted a Canada-wide study to gauge the mental-health status of men in the workplace and identify the factors that contribute to poor mental health at work.
Article content
The findings from this study are startling and demand immediate action from employers. Almost half of respondents surveyed were above the screening threshold for probable major depression, and 55 per cent reported feeling lonely — both being key risk factors for suicide. One-third were experiencing thoughts of suicide or self-injury at least a few times a week. Alarmingly, nearly one-in-four said they were experiencing psychological pain so intolerable that they could feel themselves falling apart.
Thirty-five per cent of those surveyed in the study said they dread going to work, one-third reported levels of burnout and more than one-in-10 reported frequent workplace bullying. This isn't acceptable. Work is the place we spend the majority of our waking time — and we now know that workplaces can play a leading role in undermining employees' well-being and mental health.
Article content
We also believe that workplaces have immense potential and, in fact, a social duty to support employees' well-being and mental health.
With about half of those surveyed reporting high levels of distress concealment and 47 per cent reporting that they never asked for help, many respondents to this study advocated for the unravelling of "toxic masculinity," "man-up attitude" and "macho management" in their workplaces. These are changes that employers can be making now.
The need is clear: Mental health must be prioritized in the workplace and must be built into health and safety measures at work. It's time for organizations to take responsibility for their employees' well-being. We are calling for employers to actively fill the gaps in their workplace mental-health programs to support employees' psychological wellness and shift workplace culture.
Article content
Every worker deserves to feel safe at work, and that means being as comfortable speaking about mental health as they would a broken leg. In order to achieve this we must go beyond the traditional physical health and safety measures of hard hats, steel toe boots and ergonomic chairs.
We must implement mental-health specific safety measures. This means promotion of mental-health practices by leadership and a concerted effort to ensure resources are known to employees, implementing zero-tolerance policies regarding bullying and harassment in the workplace, consistently linking mental health with wellness and safety programs, increasing opportunity for social connection within the workplace, regularly reviewing workloads to encourage fair and reasonable distribution of work and a guilt-free 5 p.m. finish, providing training to managers to help early identification of those suffering with their mental health, and paid time off for mental-health reasons and ensuring access to counselling and addiction services.
Head to healthdaysforall.ca to read the study's findings and full recommendations on how to improve organizational gaps in mental-health support in the workplace. It's never too late or too early to make a difference.
Mike Schilling is CEO and president of the Community Savings Credit Union. Dr. John Ogrodniczuk is founder of HeadsUpGuys, a program of the University of B.C., and director of the UBC psychotherapy program.
link