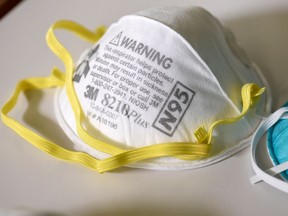 Article content
Public health officials would prefer a provincewide approach to masking as the viral season worsens, but if that doesn't happen, they are likely to start bringing in mask mandates at the local level, Renfrew County's acting Medical Officer of Health Dr. Rob Cushman said Thursday.
Article content
"I think what you are seeing now is (requests for the return of provincial mask mandates) really building momentum," he said. "This is coming fast and invariably you will probably see some health units getting in front of it before we have a uniform policy."
Article content
Individual local mask mandates are not ideal, he said. Larger-scale, uniform mandates are more effective and easier to enforce than local mandates brought under section 22 of the province's Health Protection and Promotion Act, which gives regional medical officers of health to the power to bring in public health orders.
"We would like to do things in unison and we look to (Ontario's Chief Medical Officer of Health) Dr. Kieran Moore for leadership," Cushman said.

Article content
But he noted that disease patterns tend to vary across the province and the pressures are not the same everywhere.
As calls continued to grow for the province to bring back masking rules for classrooms and other spaces, there were unconfirmed reports circulating Thursday that the province was considering introducing a new mask mandate early next week — something Moore has said he would put thought into if the situation worsened at hospitals. As of Thursday, there were more children in need of pediatric intensive care unit beds in the province than there were beds available, with some kids being sent to adult hospitals.
The Champlain health region, which includes much of south-eastern Ontario, has been the hardest hit region of the province, said Cushman. It is currently experiencing the most severe respiratory syncytial virus (RSV) surge, with more children in critical care than any other part of the province.
Article content
This week CHEO, which serves Eastern Ontario, set up a second pediatric ICU amid record admissions and emergency department visits, while several health leaders publicly pleaded with people to wear masks to reduce the severity of the viral season and to protect the hospital.
The hospital's director for critical care and surgical services appeared in a video announcing the second pediatric ICU and asking people to practise masking and other public health measures against a backdrop of crying children in critical care.
Renfrew County is seeing a similar surge in RSV and other viruses, including an early start to the influenza season, said Cushman. Local paramedics, he said, are very concerned about the number of critically ill children they are taking to CHEO for treatment.
Article content
"It is here. It is real. This is the 'tridemic' we are all talking about," Cushman said about the confluence of RSV, influenza and COVID-19.

For now, he said he is strengthening his message for people to wear masks when indoors and in crowded places, along with getting vaccinated, staying home while sick and washing their hands.
But he hasn't ruled out going further, if things worsen and there is no provincial mandate.
"We are in communication with Toronto, waiting to hear what they say, while increasing our messaging — short of section 22. That is for further consideration."
In Kemptville, meanwhile, the North Grenville COVID-19 Assessment Centre has expanded its hours of operation to help manage the situation and to help take the pressure off jammed emergency departments. The centre can see up to 30 people a day with respiratory illness symptoms.
Article content
Meanwhile, Ottawa's Medical Health Officer, Dr. Vera Etches, said in a statement that a mask mandate would need to be implemented provincially to be effective.
"I'm looking to build understanding for why we need to wear masks again," she said.
"Now is the time to put the mask back on. It's not just for schools; it's everywhere."
Ottawa Public Health, which reported seven additional COVID-19 deaths and seven new outbreaks on Tuesday, is strongly recommending people wear a well-fitted mask in any indoor public setting or when gathering with others in a household or crowded outdoor public setting.
CHEO chief of staff pleads for residents to wear masks to protect children as it deals with surge in care needs

CHEO adds second ICU as overburdened pediatric hospitals brace for worst to come this viral season
link