Kiwanis Club gives two Citizen of the Year nods to a pair of healthcare advocates who both passed away in 2022.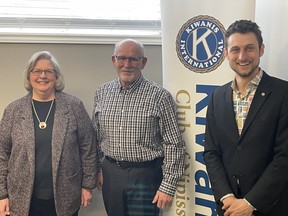 Article content
Two is almost always better than one, and on Thursday the North Bay Kiwanis Club named two separate Citizens of the Year.
Article content
Due to COVID, the local Kiwanis Club had not hosted a Citizen of the Year dinner since 2019.

They are making up for that in 2023.

Tragically, both recipients are not with us anymore (they both passed away in 2022), but Gary Jodouin, the 2022 honouree and Nancy Jacko, the 2023 recipient, made an indelible mark on the communities in which they lived. 
Jodouin was a volunteer with the North Bay Canoe Club, Big Sisters, the Kiwanis Triathlon, the Mackay Homes-Board of Directors, the North Bay Nordic Ski Club, Patrick 4 Life, the North Bay District Humane Society, the Near North District School Board and Nipissing University.

Wife Carol says her late husband loved to give back to the community and would have been humbled by this honour. She talked about Gary's personal mottos that he brought to every group he volunteered with.

"Hard work pays off," says Carol Jodouin. "Commitment pays off. You make your hometown a better place to live in when you make that commitment," remarked Jodouin.

Article content
Nancy Jacko, the 2023 Kiwanis Citizen of the Year, had a long nursing career but that was just a part of her community commitment. 
Jacko served as a vice-president of NBRHC (North Bay Regional Health Centre) she was named on of Influential Women of Northern Ontario Award 2011, and recognition as a Difference Maker in 2019 by the Canadian College of Health Leaders of Northeastern Ontario.

Most recently she received the Davedi Order of Merit for her outstanding contribution to the health-care field in North Bay. Jacko was Chair of the North Bay Parry Sound District Health Unit Board until this past November. 

She was a Northern Ontario School of Medicine University Governor until her untimely passing. 
 Bill Jacko says, outside of her family, delivering health care was his wife's passion. 
Article content
 "She loved nursing, she loved the hospital, she was so proud of everybody that worked there," says Bill Jacko. 
"We moved here in 1980 and she started working as a staff nurse. Then rose to become the vice-president," says Jacko. 
Justin Wigelius, the new Kiwanis President says the absence of the award ceremony was significant. Wigelius spoke to the media at the news event held at the Twiggs on McKeown Avenue. 
 "We wanted to come back with a bang," says Wigelius.  "We took the opportunity to honour both Nancy and Gary because they were both really involved in the health-care field," said the Kiwanis president. 
The Kiwanis Citizen of the Year dinner will be held April 27 at the Best Western Hotel.
For ticket information go to www.kiwanisnipissing.ca . 
link