Here's your daily update with everything you need to know on the novel coronavirus situation in B.C.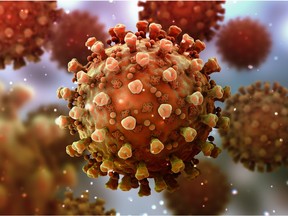 Article content
Here's your daily update with everything you need to know on the novel coronavirus situation in B.C. for March 7, 2022.
Article content
We'll provide summaries of what's going on in B.C. right here so you can get the latest news at a glance. This page will be updated regularly throughout the day, with developments added as they happen.
Check back here for more updates throughout the day. You can also get the latest COVID-19 news delivered to your inbox weeknights at 7 p.m. by subscribing to our newsletter here.
---
B.C.'S COVID-19 CASE NUMBERS
Here are the latest figures given on March 7:
• Total number of confirmed cases: 350,941
• New cases: 997 (385/327/285)
• Total deaths: 2,914 (11 reported in past 24 hours)
• Hospitalized cases: 449
• Intensive care: 63
• Total vaccinations: 4,520,196 received first dose (90.7% of eligible pop. 5+); 4,311,761 second doses (86.5%); 2,605,260 third doses (56.2% of those 12+)
• Long-term care and assisted-living homes, and acute care facilities currently affected: 17
Article content
IN-DEPTH: Here are all the B.C. cases of the novel coronavirus in 2021 | in 2020
---
B.C. GUIDES AND LINKS
• COVID-19: B.C.'s vaccine passport is here and this is how it works
• COVID-19: Afraid of needles? Here's how to overcome your fear and get vaccinated
• COVID-19: Here's where to get tested in Metro Vancouver
• B.C. COVID-19 Symptom Self-Assessment Tool
---
LATEST NEWS on COVID-19 in B.C.
The Provincial Health Officer has posted a new provincial health order mandating health care professionals report their vaccination status to their colleges and for that information to be shared with the health ministry by month's end.
Article content
Dr. Bonnie Henry had previously made an announcement in early 2022 that all health care professionals would need to be vaccinated to work, but the latest order stops short of setting a deadline for that requirement.
The latest order requires all health care professionals from across a range of fields to report their vaccination status to their respective colleges. Those colleges will then be required to share the information with the ministry, which will verify the information against their vaccination registry.
The order applies to nurses and midwives, chiropractors, dental hygienists, dental technicians, dental surgeons, denturists, dieticians, massage therapists, naturopaths, occupational therapists, optometrists, pharmacists, physical therapists, physicians and surgeons, psychologists, speech and hearing professionals and traditional Chinese medicine practitioners.
Article content
The latest statement from the Health Ministry does not list any consequences for workers who refuse to share their vaccination status by the end of the month, and does not list any date for implementing any consequences for those who are not fully vaccinated.
Read full story here.
COVID cases in hospital continue to fall in B.C.
There were 63 COVID-19 cases reported in B.C. hospital intensive-care units on Monday, as hospitalizations continue to fall. There are now 449 people in hospital either with COVID-19 or because of the disease. This number has been falling for the past month as the impact of the pandemic on the health system diminishes.
B.C. reported 997 fresh case of the disease over the past three days. However, this is based on very limited testing, with fewer than 3,300 PCR tests performed on Sunday – well below the 20,000 a day capacity.
Article content
The number of active health-care outbreaks fell from 20 to 17. Eleven people died from the disease over the past three days, bringing that total to 2,914.
The average age of COVID-19 deaths in B.C. is 85 and most people who died have other health conditions making them weak.
Omicron infections are contagious for at least 6 days
Patients infected with the Omicron variant of SARS-CoV-2 remain contagious for just as long as patients infected with earlier variants, according to a small study.
Researchers took blood samples from 56 newly-diagnosed patients, including 37 with Delta infections and 19 with Omicron infections. All were mildly ill, such as with flu-like symptoms, but none were hospitalized.
Regardless of which variant or whether or not they had been vaccinated or boosted, study participants "shed live virus for, on average, about 6 days after symptoms (began), and… about one in four people shed live virus for over 8 days," said Dr. Amy Barczak of the Massachusetts General Hospital in Boston, who coauthored a report posted on medRxiv ahead of peer review.
Article content
"Although it is unknown exactly how much live virus is needed to spread the disease to others, we take these data to suggest that people with mild COVID-19 infection may be contagious on average for 6 days, and sometimes longer," Barczak said.
"Decisions about isolation and masking should take such information into account, regardless of variant or prior vaccination status."
–Reuters
Takeda angioedema drug shows promise for COVID-19
A drug used to treat a blood vessel condition called angioedema has shown promise as a treatment for COVID-19 in lab experiments, researchers said.
Icatibant, sold as Firazyr by Japan's Takeda Pharmaceutical Co, blocks a protein called bradykinin receptor b2 in the so-called kinin system. The protein is regulated by the ACE2 protein on cell surfaces, which the coronavirus uses as a gateway for infection.
Article content
When the researchers analyzed nasal cells obtained from newly diagnosed COVID-19 patients, they found elevated levels of bradykinin receptor b2, which led them to wonder whether blocking that protein with icatibant could protect the airway-lining cells against the coronavirus.
"To our surprise, icatibant effectively reduced viral load by more than 90% and protected cultured human airway cells from cell death upon SARS-CoV-2-infection," said Adam Chaker of Technical University of Munich, whose team reported their findings on Saturday in the Journal of Molecular Medicine.
Icatibant uses different biochemical pathways to protect the airways than steroids, the researchers found.
In their test tube experiments, repeated dosing of icatibant did not stop coronavirus infection completely, but reduced the severity of infection, they reported.
Article content
Previous small observational studies have suggested that icatibant might provide some benefit to COVID-19 patients. Now, Chaker said, it is time for "double-blind, placebo-controlled clinical trials … conducted in high-risk patients and see potential to use icatibant as add-on treatment at early stages of infection."
–Reuters
Heart defects boost risks for hospitalized COVID-19 patients
People born with heart defects who become sick enough from COVID-19 to be hospitalized are at higher risk for becoming critically ill or dying, researchers said.
The findings were drawn from a study that compared 421 patients with a heart defect who were hospitalized for COVID-19 with 235,638 similar hospitalized COVID-19 patients born with normal hearts.
Article content
After researchers accounted for patients' other risk factors, those with congenital heart defects were 40% more likely to be admitted to an intensive care unit, 80% more likely to need mechanical ventilation, and two times more to die while hospitalized, compared to patients in the control group, according to the report published on Monday in the journal Circulation.
Hospitalized patients with a congenital heart defect and another health condition faced even higher risks for poor outcomes, the researchers found.
"People with heart defects should be encouraged to receive the COVID-19 vaccines and boosters and to continue to practice additional preventive measures for COVID-19, such as mask-wearing and physical distancing," study leader Karrie Downing of the U.S. Centers for Disease Control and Prevention said in a statement.
Article content
–Reuters
B.C. hospitalizations declining, so why are we still seeing so many deaths?
Hospitalizations have plummeted in the past six weeks but deaths, which spiked with an explosion in COVID-19 case counts with the new Omicron virus variant, remain at their highest level since the second wave in the fall of 2020.
But experts expect the death tally, which has started to trend downward slightly, to fall as hospitalizations and case counts do.
"We would expect hospitalizations and deaths to lag the decrease (in infections), especially deaths," said Simon Fraser University epidemiologist Caroline Colijn, a Canada 150 research chair in mathematics for evolution, infection and public health.
Added Dr. Brian Conway, president and medical director of the Vancouver Infectious Diseases Centre: "Death is the ultimate lagging indicator. It's a thing that goes down last after everything else."
Article content
Weekly hospitalizations peaked six weeks ago, at about the 750 level, and have dropped to the 200 level, according to provincial health figures.
The week ending Friday, Feb. 25, the latest date for which statistics are available, there were 53 deaths from COVID-19, bringing the total to 2,903. The weekly toll is down from two weeks earlier, when, for three weeks, deaths were in the 70 to 80 range.
Read full story here.
— Gordon Hoekstra
B.C. expands rapid test kit program to 60 and older starting Monday
Rapid antigen test kits will be available at pharmacies for people aged 60 and older starting Monday, said the B.C. health ministry.
The expansion into the age group comes as the government has scaled back its PCR testing to less than 10,000 a day.
Article content
People 70 and older were the first group allowed to pick up a five-pack test kit. Eventually, all British Columbians will be able to pick up one free kit every 28 days at participating pharmacies. The tests are meant for people to use at home if they develop symptoms of COVID-19.
As of Thursday, 3.9 million tests have been sent to pharmacy distributors. Of these, 1.8 million have been delivered to pharmacies across B.C. More than 583,000 tests have been given out by more than 1,000 pharmacies.
Remember COVID? Why many of us are suffering from brain fog
As Canada reopens amid loosening pandemic restrictions, some people are finding it hard to recall words or names or compute things in their heads. Maybe you don't remember all the steps to your morning routine anymore or your child's teacher's name.
Article content
Approximately 600 million people worldwide experience cognitive impairment in the form of "brain fog". This "fog" is a common symptom of what is dubbed "long COVID," the long-term effects of having contracted the COVID-19 virus.
Why is this happening and what can be done to combat it?
"I don't think we exactly know the answer…these are all, neuroscientifically, not very well-defined things," said Dr. Adrian Owen, a professor of cognitive neuroscience at Western University in London, Ontario.
Even though "brain fog" lacks a specific scientific definition, he said they are starting to understand how it impacts the brains of people who have had COVID.
Owen is a part of a team of researchers looking at how a group of 485 patients who had self-reported a positive-COVID test in an online survey, have had their cognitive function and mental health impacted by the virus.
Article content
Read full story here.
— The National Post
Trudeau pays price for trucker protest fallout as ratings take a dive
Justin Trudeau's approval rating has plummeted following criticism of his handling of the Canadian trucker protests, including bringing in emergency legislation.
Ottawa, the capital, was brought to a standstill for three weeks and border crossings with the United States were clogged as hundreds of truckers blocked streets and highways in protest at COVID vaccine mandates.
The chaos ended when Mr Trudeau enacted emergency powers not used by a prime minister for more than 50 years and dozens of people were arrested.
Nearly half of Canadians said their impressions of Mr Trudeau had worsened because of his response to the convoy, one poll found, while another said a majority of people thought his words and actions had inflamed the situation.
link