Ian Large, Leger's Alberta executive vice president, said a marked divide appears when breaking down Albertans' priorities by whether they voted for the UCP or the NDP on election day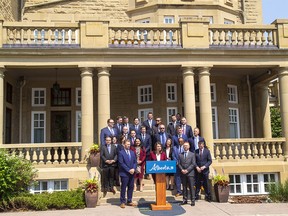 Article content
Albertans want Premier Danielle Smith's new government to focus on health-care delivery and cost of living, according to new polling.
Article content
The post-election online survey by Leger for Postmedia asked 1,002 respondents to rank the top three issues they look to the re-elected UCP government to address during its new term.
Article content
One-in-three respondents named improving delivery of health care as a key priority, while one-in-four want the government to help with cost of living issues brought on by rising inflation and interest rates. A trio of economic issues — growing the economy, cutting taxes and diversifying the economy — were named by 15 to 17 per cent of those surveyed.
Those top topics are the hot-button issues expected to rise to the top in any polling like this, said Ian Large, Leger's Alberta executive vice president.
But Large said a marked divide appears when breaking down Albertans' priorities by whether they voted for the UCP or the NDP on election day.
While health care is a top issue across the board, for instance, almost twice as many NDP voters named it a top priority when compared to UCP voters.
Approaches to economic policy also varied widely between party voters. Far more UCP voters identified helping to grow the oil and gas sector as an important issue when compared to NDP voters, while that result flipped when it came to diversifying the economy.
Article content
What to expect from Alberta Premier Smith's mostly-familiar cabinet

Alberta Premier Smith suggests 'other arrangements' as lab services struggle to meet demand

Calgary MLAs land prominent roles in Smith's cabinet
"We start to see some really interesting differences that make for a challenge for government," said Large, who said the new UCP cabinet will have to balance governing to its base and to the wide swath of Albertans who cast their ballots for the NDP. He said MLAs stepping into new roles on cabinet will have their work cut out in earning broad support from Albertans.
"Does putting in Adriana LaGrange (as the new health minister), does that speak to health care? Does that give confidence to NDP voters that there's somebody in charge there now?"
Some major UCP planks not considered top priority: poll
Some issues which formed major policy planks for the UCP in their successful election campaign don't register as top-priority subjects, including improving public safety, which was named by 11 per cent.
Other UCP policy which the party put on the backburner during the campaign, such as replacing the RCMP with a provincial police force or creating a new Alberta pension plan, were priorities for only three per cent of respondents.
Article content
"To focus on that stuff at the bottom of the list would be a mistake," Large said.
Managing relations with the federal government also wasn't flagged as a key issue, with eight per cent naming it, even as Smith used her victory speech to take aim at Prime Minister Justin Trudeau and the policies of his Liberal government.
A separate question found Albertans split on what the provincial government's relationship with the feds should look like. Forty-seven per cent said Smith should continue to push back strongly against them while 40 per cent want to see a less combative approach.
As a non-random internet survey, the Leger poll does not have a margin of error. If the data had been collected through a random sample, it would have a margin of error of plus or minus 3.1 percentage points, 19 times out of 20.
Twitter: @jasonfherring

link