Other recommendations allude to changes already considered by government, including changing the Public Health Act to ensure politicians, not medical experts, have the final say on public health measures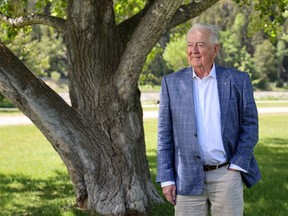 Article content
The Alberta government should give greater consideration to the impacts of health measures during future public health emergencies while also making those restrictions more difficult to introduce, according to findings from the province's Preston Manning-led COVID-19 review panel.
The 116-page report, including more than 90 recommendations, from the Public Health Emergencies Governance Review Panel was released Wednesday morning via a news release.
Article content
It makes three broad recommendations for future governments:
Improve the administrative and regulatory framework governing public emergency responses
Strike "a better balance" between protection from harm and protection of rights
Increase health care system capacity to respond to a surge in demand
"Our recommendations are based on the consensus of panel members as to how best to prepare Alberta to cope with future public emergencies, but we know that 'preparing for future emergencies' is an evolving process subject to unforeseen factors and considerations," Manning stated in an opinion piece also published Wednesday.
'Consider non-scientific evidence as well'
The report also calls for inverting how public health restrictions would be introduced, and making it so politicians would have to justify in court the need for public health measures before they are brought into effect.
"No infringement of constitutionally guaranteed rights and freedoms, during a declared state of public emergency, is to be regarded as justifiable and reasonable until first proven to be so in a court of law."
Article content
Other specific recommendations include rejecting provincewide school closures as a policy option, conducting a cost-benefit/harms benefit review which should be made public before introducing health measures, and expanding the role of the Alberta Emergency Management Agency.
Related Stories
Preston Manning: How Alberta should prepare for future public emergencies

Politicians, not medical experts, to have final say on restrictions after Public Health Act overhaul
Other recommendations allude to changes already considered by government, including updating the Public Health Act to ensure politicians, not medical experts, have the final say on public health measures.
That change is already in the process of being formalized through the government's Bill 6, announced earlier this month.
Similarly, the report makes several recommendations to amend Alberta's Bill of Rights to protect "the rights and freedoms of all Albertans" as well as ensuring "the right of every Albertan not to be coerced … into submitting to medical, psychological or any other type of care or treatment."
Article content
Premier Danielle Smith had mused late last year about amending Alberta's Human Rights Act to protect those who chose to not get vaccinated, but has since backed off that pledge.
Other recommendations challenge traditional approaches to public health, with one suggesting that "evidence-informed decision-making consider non-scientific evidence as well."
When asked, Manning cited Indigenous healing practices as an example of such evidence.
"You don't want to exclude that evidence that hasn't been arrived through application of the scientific method and testing in some laboratory," he said. "You can't say it's not legitimate."
'No decisions have been made': premier
Smith issued a statement Wednesday thanking Manning for his work, but added the government has yet to decide which or how many of the recommendations it will pursue adopting.
"At this time no decisions have been made in response to the recommendations," it states.
"Together with our caucus, we will review and analyze the report and consider the panel's recommendations as we prepare for future legislative sessions."
Article content
In the past, both she and Manning have publicly questioned COVID-19 restrictions and the mainstream science approach to managing the pandemic.
Manning couldn't say what the next steps would be now that the report had been released, but said he expects at least some of the recommendations to come into force eventually.
"We'll just have to wait and see which they actually do," he said.
"They wouldn't have commissioned this panel unless they intended to do something with the report."
In January, Smith announced that Manning, a veteran conservative politician, would chair the panel with the goal of identifying lessons and legislative amendments that could be used during any future pandemics.
The province said the six-person panel would use its $2-million budget to review legislation and regulations, and the wider effects of government decisions on health as well as the economy, education, and the mental health of Albertans.
Manning, 81, was to be paid $253,000 for his work as the panel's chairman.
In defending that salary, he said he also had to give up his political consulting work for the past year, and that the findings represented value for money, citing the issues with the last government response to a health emergency.
Article content
"I think most people would say spending $700,000 or a million dollars or two million dollars … if you can prevent that from ever occurring again, that will be a pretty worthwhile investment."
Opposition New Democrats had pledged to cancel the panel if they had won last May's election and, on Wednesday, party Leader Rachel Notley told reporters the report opens the door to normalizing what she termed "conspiracy theories and pseudoscience."
"That is not good news for Albertans. That's not good news for our safety and the quality of our health care," she said.
"If you read between the lines, this report has multiple efforts buried within it to limit the scope of scientists and medical professionals, and I think that that is bad news for Albertans."
Public wanted greater role for medical expertise, CMOH
The panel sought input from experts and the public around the question of "what changes should be made, if any, to the laws of Alberta to better equip the province to cope with future public health emergencies?"
The public's answers to those questions, received through an online survey that ran from late January through mid-March, appear to partly contradict the report's conclusions.
Article content
Postmedia acquired more than 3,100 of those replies via freedom of information requests and analyzed each to determine its main message.
The analysis showed just over one-third of replies — 36.6 per cent — stressed experts, including a more independent chief medical officer of health, should play a bigger role in addressing future public health emergencies.
The second-most common sentiment in the replies expressed opposition to public health measures, including masking and vaccine passports, as well as a preference for elected officials to guide policy during the next public health emergency.
Manning said the survey showed people didn't understand the relevant legislation.
"What the feedback indicated is that people don't have any idea of what is the legislation that governs this thing," he said.
"The feedback that I think the government is going to value is not what came in on that website, but the feedback that comes in now if people have a better idea."
More than 6,000 Albertans have died due to COVID-19 since the start of the pandemic in March 2020, according to federal data.
link