Medicago met all the terms for the $150 million non-refundable advance payment but the contract was eventually terminated 'by mutual consent,' the health minister's office said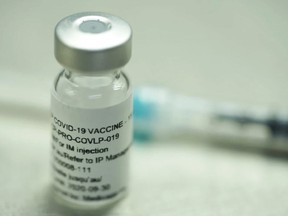 Article content
OTTAWA — After refusing comment for more than a week, the federal government now says a $150 million loss for "unfulfilled contract" is linked to a deal with failed COVID-19 vaccine-maker Medicago.
Article content
In a statement to National Post Friday, the press secretary for Health Minister Mark Holland, Chris Aoun, said the government made a $150 million non-refundable advance payment to Quebec-based Medicago early in the pandemic to fund development and reserve a number of doses of its eventual COVID-19 vaccine.
Article content
Back in 2020, the federal government inked a deal to buy up to 76 million vaccine doses in addition to another $173 million investment to both help develop homegrown COVID-19 vaccine and expand its manufacturing facility in Quebec City.
The "advance purchase agreement" was one of seven the government signed early in the pandemic with vaccine manufacturers to secure vaccine doses as soon as they were ready. At the time, it was not known which, if any, of the vaccines would pass Health Canada' approval process (most of them did).
Article content
But the contract with Medicago never panned out and the company cancelled the vaccine's Health Canada authorization after the World Health Organization refused to accept its vaccine for emergency use due in 2022 because it was partly owned by tobacco giant Philip Morris International.
Then in February, the company's owner Mitsubishi Chemical Group announced it was shutting the company down in light of "significant changes" to the vaccine market three years into the pandemic.
Aoun said that Medicago met all the terms for the $150 million non-refundable advance payment but that the contract was eventually terminated "by mutual consent" and that "Medicago was released of its obligations" in the advance contract.
Article content
Aoun said he was disclosing the information with the company's consent.
The disclosure comes over one week after National Post began asking questions to the Public Health Agency of Canada (PHAC) about a $150 million loss due to an "unfulfilled contract by a vendor" declared in the 2022-2023 government public accounts.
But until Friday, PHAC refused to disclose any information whatsoever on the loss, such as the identity of the vendor, the nature of the deal and the product or service that was not received.
Article content
A spokesperson repeatedly said all that information was covered by a confidentiality agreement and to reveal any information would expose the government to legal action.
After National Post published a story Thursday on the "highly unusual" stonewalling by PHAC, the Conservatives and Bloc Québécois published a letter demanding the House Health committee hold an "emergency" meeting to address the "egregious abuse of taxpayer money."
"Another $150 million in taxpayer waste appears to have vanished. The Public Health Agency of Canada and the Minister of Health report to this committee and must be accountable," reads the letter signed the four Conservative and one Bloc MP on the health committee.
Earlier in the day, the NDP had also promised to raise the matter in Parliament.
Article content
Friday morning, Holland revealed in question period that the contract was related to COVID-19 procurement. He also said accusations by opposition parties of wastefulness were "completely unfounded."
Responding to a question on the loss by Bloc Québécois MP Nathalie Sinclair-Desgagné, Holland added in French that the government signed vaccine pre-purchasing agreements with multiple COVID-19 vaccine companies early in the pandemic to ensure a quick supply for Canadians.
"It was impossible to know at that time which would be good for people. That's the reason why it was important to try all options, and that's the issue here," he said.
During the summer of 2021, the federal government signed seven pre-order contracts for COVID-19 vaccine doses in the hopes of receiving doses as soon as possible once any of them were approved for use by Health Canada. To date, it has refused to disclose the amounts it paid for any of those vaccines.
Article content
Those contracts were with Moderna (up to 44 million doses), Pfizer-BioNTech (up to 51 million), Johnson and Johnson (up to 38 million), Novovax (up to 76 million), Sanofi-GlaxoSmithKline (up to 72 million), Medicago (up to 44 million) and AstraZeneca (20 million).
"COVID-19 vaccine advance purchase agreements were required to secure COVID-19 vaccine doses for Canadians in an environment of global competition. These were novel vaccines and companies needed advance funding for research, development and clinical trials," Aoun said Friday.
"In order to secure early access to safe and effective vaccines for everyone eligible to be vaccinated in the county, the Government of Canada set up advance purchase agreements with several manufacturers," he added.
A request for comment sent to an email address for Medicago did not yield a response.
Our website is the place for the latest breaking news, exclusive scoops, longreads and provocative commentary. Please bookmark nationalpost.com and sign up for our daily newsletter, Posted, here.
link